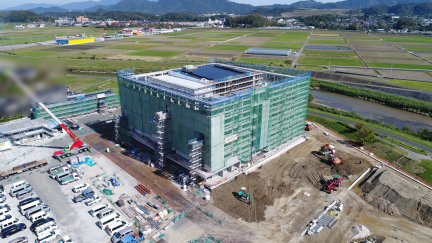 One city and three towns namely Yamada-city, Inatsuki-town, Usui-town and Kaho-town became "Kama city" in 2006 by municipal merger in order to realize unique and energetic community and to create a comprehensive future plan with strengthened urban infrastructure.
In the year 2011 "A special investigative committee regarding a new city hall" was formed. In 2012 after 7 deliberations the location of the new city hall was decided based on an approved bill submitted by city council members.
On 14th of April 2016 a strong strike-slip fault earthquake of magnitude 6.5 with its seismic center in Kumamoto prefecture attacked Kyushu island. The maximum 7 on the seven-point Japan scale was observed in Mashiki town, Kumamoto and it hit from Kyushu to Chubu district. The first earthquake in Kumamoto area was followed by many quakes which hit extended area of Kumamto prefecture and Oita prefecture.
The new city hall has not only aseismic performance and fireproof performance but also enough space as a disaster protection and reconstruction base with headquarter function. In order to avoid traffic confusion in the event of a natural disaster, better access to the city hall for example by use of surrounding roads was well studied and the hall can fulfill a role to ensure the public security and safety.
It was decided to use high strength concrete for the structure of the new city hall. In order to perform the compressive strength of 50N/mm2, the concrete needed to be recognized by the minister under the building standards law and the concrete mixed with concrete special admixture "SILICA WHITE" was certified by the minister for the project.
The construction work of the new city hall is now actively under way.